This year, reaching the end of the Way of Saint James in Galicia has a double reward. In addition to the satisfaction of completing the first European Cultural Itinerary and sharing this unique experience with people from all over the world, 2010 also offers the chance to take part in the Xacobeo 2021-22, a programme packed with cultural and leisure activities to suit all tastes and created to celebrate the Holy Year, and which was also extended to 2022 due to the influence of covid 19 on the impossibility of traveling and organizing mass events .
Fin dal Medioevo, pellegrini accorrevano in Galizia da tutta Europa, attratti dalla sfida di raggiungere la fine del Cammino di Santiago e la fine del mondo conosciuto, che fino al Rinascimento era considerato Finisterre, situato sul costa e uno dei punti più occidentali del continente.
Even before the idea of Europe was born, the Way of Saint James was laying the foundations thanks to the exchange of knowledge and culture that flowed throughout the West and converged at Compostela, creating a cultural and social network that sowed the seeds of the sense of the European identity and awareness that exists today.
The Way of Saint James still preserves a cultural and cosmopolitan splendour that has been built up over the centuries; indeed, the medieval pilgrimage route that forged the foundations of modern Europe continues to draw thousands of people each year. Modern-day pilgrims – regardless of the personal or collective reasons that have spurred them on their way from far-flung corners of the world towards the end of the trail in Santiago de Compostela – all agree that the Way is truly universal.
This is a very special year for Galicia, the Way and all those that choose to visit us. It is a Holy Year in Santiago de Compostela, an event that only occurs when 25 July, dedicated to the Apostle Saint James, falls on a Sunday.
XACOBEO 2021-22
Galicia wishes to share the celebrations to mark this event with all those that visit it. Galicia has cause for celebration in 2021 and 2022, and has therefore organised the Xacobeo 2021-22.
A year long jubilee, with a celebratory programme of events with something for everyone: cultural events, exhibitions, encounters with intellectuals, concerts and a whole host of other activities organised throughout the year in Galician towns and cities that will turn Galicia into a vast celebration that will be impossible not to get caught up in.
BEYOND THE WAY OF SAINT JAMES
Beyond the Way of Saint James, Galicia is mainland Spain's most Atlantic region. Looking out onto the ocean, its more than 1,300 kilometres of coastline are dotted with over 700 beaches, many of them completely deserted. Its breathtakingly beautiful and varied coasts boast the highest cliffs in Europe, which contrast with the calm waters of its tidal estuaries, navigable 365 days a year.
The Galician coast is also home to the Islas Atlánticas de Galicia National Land and Sea Park. Together with the nature parks at the mouth of the River Umia and the Corrubedo Sand Dunes, this natural treasure reflects the spectacular land and sea scapes that can be admired all along the coastline.
Galicia is Spain's greenest corner. Inland, more than a thousand small rivers twist and turn their way through rolling mountains and valleys that are also home to four nature parks. Exploring inland Galicia and taking advantage of the extensive network of rural tourism accommodation is still an unforgettable adventure.
With a history stretching back more than 2,000 years, Galicia is featured four times on the World Heritage List: the city of Santiago de Compostela, the Way of Saint James, the Roman Walls of Lugo – the best conserved example of their kind in the world -, and the Tower of Hercules, the world's oldest working lighthouse, in the city of A Coruña.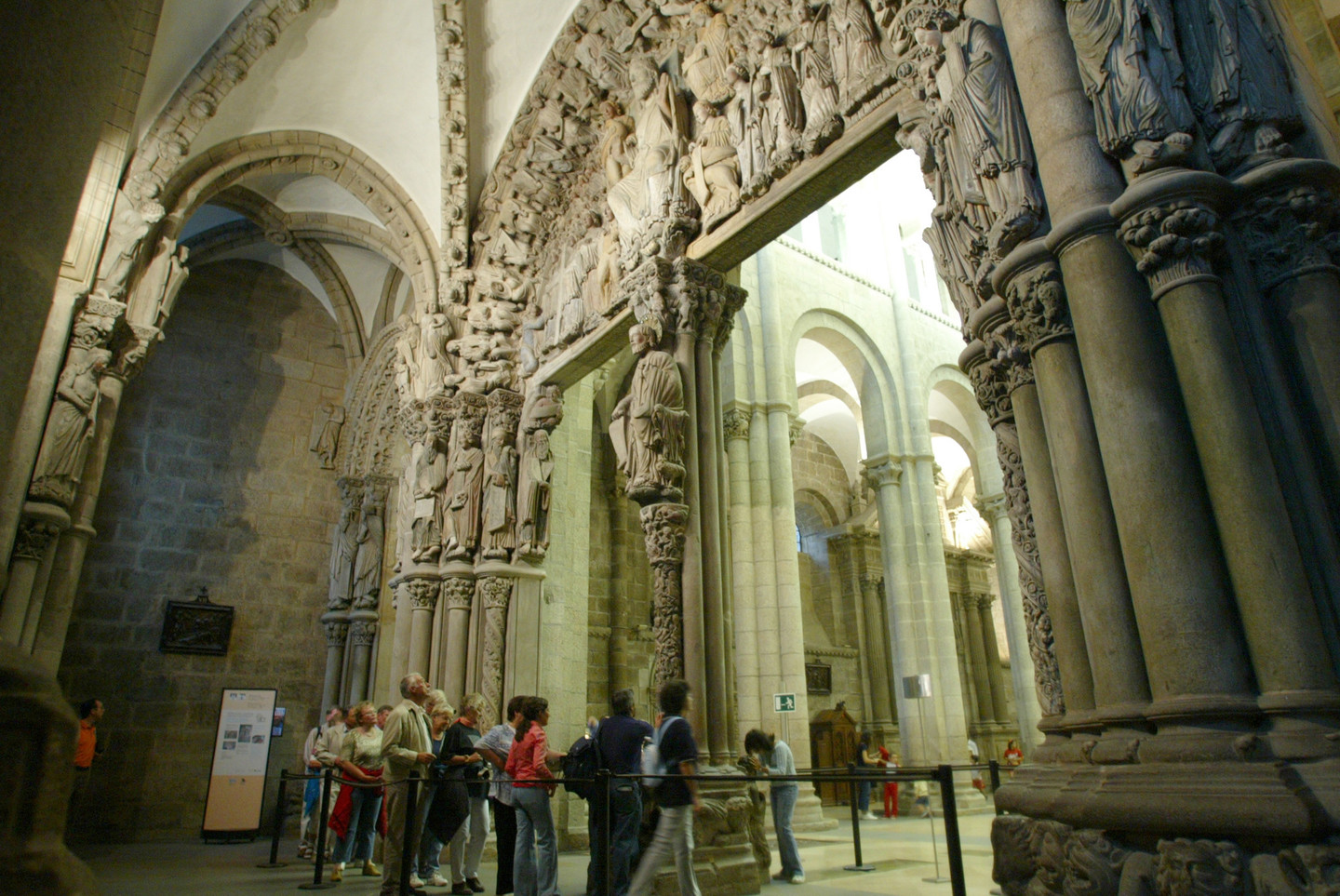 La Galizia vanta sette città: A Coruña, Santiago de Compostela, Ferrol, Lugo, Ourense, Pontevedra e Vigo. Ognuna diversa e con uno stile proprio: Lugo e Ourense sono città romane; Santiago de Compostela e Pontevedra sono state costruite in pietra; A Coruña, accogliente e luminosa; Ferrol, modernista; e Vigo, città portuale marinara.
Più di 20 terme e oltre 300 sorgenti fanno della Galizia la principale destinazione del turismo della salute in Spagna, offrendo più di 2.500 posti letto per tutti i gusti e tutte le tasche.
La Galizia è anche sinonimo di enoturismo e buona cucina, in particolare i crostacei dei suoi estuari di marea. Offre inoltre una vasta gamma di carne e pesce, tutti con certificati di genuinità. E tutto questo accompagnato dai magnifici vini delle cinque denominazioni di origine della regione: Rías Baixas, Ribeiro, Valdeorras, Ribeira Sacra e Monterrei.
La Galizia e le celebrazioni di Xacobeo 2021-22 vi aspettano alla fine del Cammino.